---
Here you'll find papers, slides, and information on my recent conference presentations. I make materials available from my talks to share with folks who can't attend conferences, to give attendees information to draw from and think about (and cite!) later, and to circulate my work more widely beyond individual meetings and disciplines.
---
Modern Languages Association (MLA) 2021
"Aging Bodies and Minds in the Design of Communication"
Online; January 2021
The MLA forum for Age Studies organized a panel on "Writing, Designing and Narrating Old Age" at the virtual annual convention in 2021. Alongside Dr. Lauren Marshall Bowen, Dr. Louise Wetherbee Phelps, and Dr. Katherine Silvester, I shared research on older adults' literate experiences. This presentation explores why older adults' aged 70+ place rhetorical distance between themselves and their technological devices through three lenses: 1) obtrusion/intrusion, 2) cultural logics, and 3) exclusionary design practices. [ Slides ]
---
Computers & Writing 2019
Collaborative Panel: "Developing Digital Literacies Inside and Outside of Classrooms"
East Lansing, MI; June 2019

As users enter and write within new digital contexts, they bring their previous experiences with technologies and texts to new situations, transferring and transforming their understandings. This panel examines three distinct applications of digital literacies and their ethical implications: what meta-literacies instructors use when commenting on student writing, how entrepreneurs construct their digital identities, and what influences shape technological access for older adults aged 60+.
Allegra W. Smith, "Digital Literacies Beyond School and Work: The Networked Lives of Older Adults in a Retirement Community" [ Talk ]
---
Association of Teachers of Technical Writing (ATTW) 2019
"Accounting for Age in Technical Communication Research"
Pittsburgh, PA; March 2019

Older Americans represent the fastest-growing segment of the population: in a decade, 20% of the country will be over age 65. But despite the country's shifting demographics, technical communication research still fails to account for age as a component of identity, and focuses its inquiry largely on 1) students in undergraduate programs, and 2) the communication work of academics and practitioners in their workplaces, before old age and/or retirement. In this talk, I present research that draws from interviews and task analysis observations conducted with Americans belonging to the "oldest old" demographic (age 75+) to address issues of web usability, accessibility, experience, and aging. [ Talk ]

---
Cultural Rhetorics 2018
"Method(ologie)s for Conducting Empirical Research in and with Communities"
East Lansing, MI; November 2018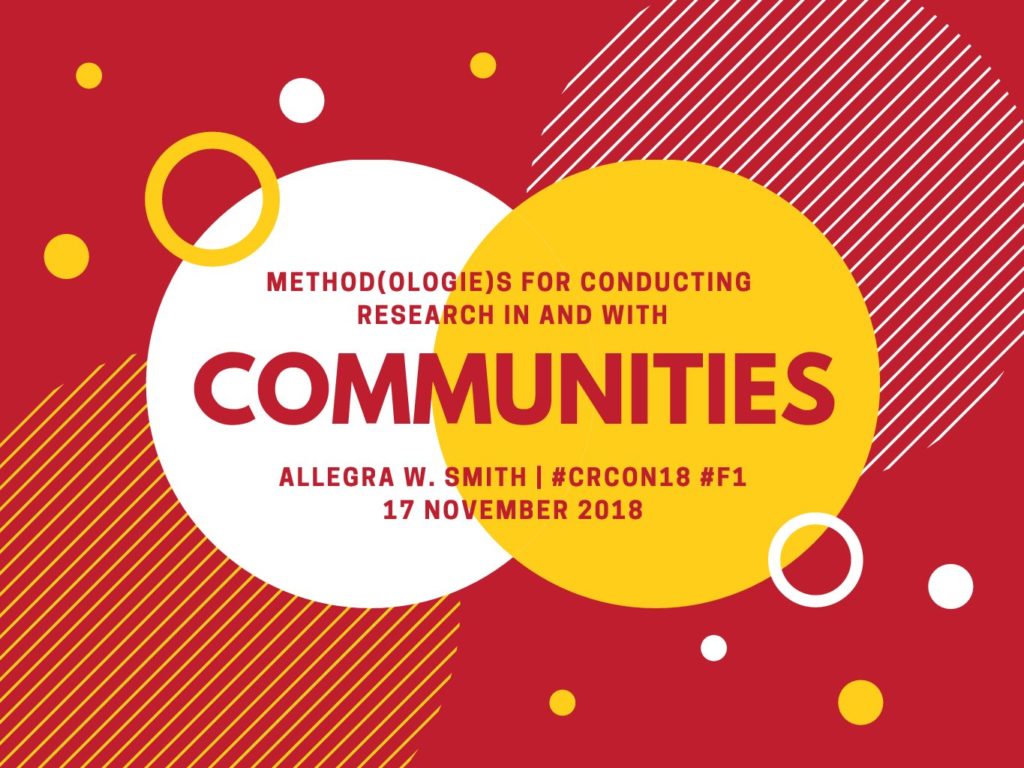 How can we ensure ethical, theoretically grounded practice when conducting research with communities that differ from our own? I describe lessons learned from researching the digital practices of a group of seniors living in a supervised apartment facility. Working with older adults age 70+ presents unique challenges and opportunities for rhetoricians, especially related to storytelling and listening. I illustrate practices such as participant observation, forming mutually beneficial researcher/participant relationships, reciprocal practice and gift-giving, rhetorical listening, and reflexively engaging with researcher subject position. [ Talk | Slides ]

---
Watson 2016
"Please Internet Responsibly: Rhetorical Feminist Methodologies for a Digital Age"
Louisville, KY: October 2016




Kristi Prins and Kristin Ravel and I collaborated on a panel, "Mobilizing Digital Feminist Rhetorical Theory and Practice," at the 2016 Thomas R. Watson Conference on Rhetoric and Composition. The panel considered how feminist rhetorical notions of responsibility can shape both digital rhetorical research and course activities that help students reflect on their own production and distribution of digital texts. We situated our work within feminist rhetorical and digital theories and shared examples of how these theories and practices shape our research practice and our course activities. Focusing on the work of emerging and early-career scholars in the field of rhetoric and composition, my talk highlighted instances of technofeminist research method(ologie)s such as grounding work in the theory of practitioners, employing a positional framework, and engaging in participatory data coding. [ Talk | Slides ]